2

Jun, 2022
Welcome to the Public Services Commission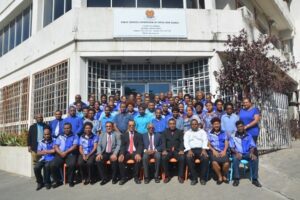 The Public Services Commission (PSC) is an independent constitutional office established under Section 190 of the National Constitution of Papua New Guinea.
The Commission consists of three (3) members who are appointed for a five (5) year term by the Head of State, upon recommendation of the Public Services Commission Appointment Committee, consisting of the Prime Minister; Chief Justice; Leader of Opposition; the Chairman of the Permanent Parliamentary Committee on Appointments; and the Chief Ombudsman.
Our Vision is to 'transform the National Public Service into a vibrant, effective, and efficient service delivery machinery by maintaining impartiality in our Review Process, Merit-Based Appointment Proceedings, Investigation, and Legal representation in accordance with the public service government system, set processes and procedures and the rule of law'.
Our Mission is to 'promote a highly competent, non-partisan and representative Public Service that is based on the values of fairness, integrity, transparency, accountability, and accessibility to our service. This will reinforce trust and confidence in the Public Services Commission'.